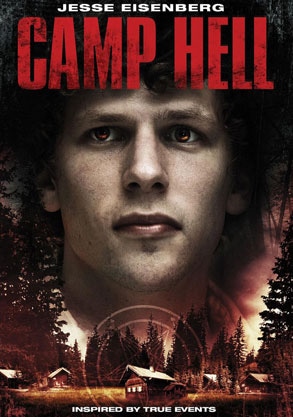 Lionsgate
Jesse Eisenberg has officially unfriended Camp Hell.
The Oscar-nominated actor sued Lionsgate Entertainment for $3 million last week, accusing the studio of trying to capitalize on his good name by making him look like the star of the widely panned horror flick, when all he did was shoot a quick cameo.
Wow, why doesn't he want to be attached to Camp Hell? It sounds amazing! (If you adore schlock and Andrew McCarthy, that is.)
The movie is about a group of suburban Christian kids who go away to Bible camp and end up plagued by a demonic curse after a camper commits "a sin of the flesh," per the lawsuit filed Nov. 23 in Los Angeles Superior Court. You-know-him-from-everywhere character actor Bruce Davison plays the "charismatic priest" who warns the campers to avoid skinny-dipping and other bad sleep-away behavior. The aforementioned McCarthy plays the father of a camper.
According to Eisenberg's complaint, he was paid $3,000 ("substantially less than he typically receives for his acting services") to be in the film for less than five minutes, contrary to what the DVD cover with his face plastered in the middle of it would have you believe.
The suit states that the Social Network and Zombieland star sued "to warn his fans and the public that, contrary to [the film's advertising], Eisenberg is not the star of and does not appear in a prominent role in Camp Hell."
Team Jesse also cites multiple online reviews noting both the lack of chills and the lack of Eisenberg in the film.
He is seeking at least $3 million in general damages for alleged misappropriation of right of publicity and unfair business practices. Grindstone Entertainment Group is named as a defendant along with Lionsgate.