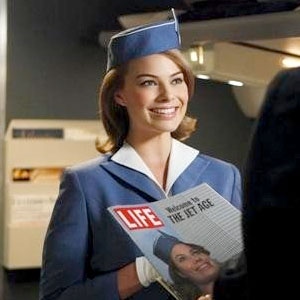 ABC/PATRICK HARBRON
Another day, another fall TV series that looks to be a goner, but the network says it is not.
So what's the real story?
After one of Pan Am's stars, Karine Vanasse, tweeted that she got "THE call" that the show is only coming back for one more episode after Christmas, ABC reps and sources are telling us a different story...
"No, this is not correct," an ABC rep says of the rumor that Pan Am has been canceled. "Nothing has changed. We are not canceling Pan Am. We are still in production and will continue to be in production finishing the original 13 episodes plus one more additional one."
And good news for fans: Per ABC, we will see all the ordered episodes. "We have one more original episode this coming week, Dec. 4," the show's rep explains, "and then will return in January with new episodes, airing all of them. Pan Am is still in contention for next season. We won't know about that until our upfront announcement in May."
Insiders close to the series tell me that the ABC higher-ups still have hopes for Pan Am, however, they simply have "too many good shows" that are working right now so Pan Am will get a shortened freshman season. But the insiders say, it could very likely come back next fall or even late summer.
Bottom line: It doesn't look likely that Pan Am will survive in the long haul, but it is still possible.
Despite a very promising start out of the gate (11 million viewers for a critically acclaimed pilot episode), Pan Am has dipped to about 5 or 6 million viewers per episode.
And of course, if the show really isn't cancelled (and we believe it not to be), someone really should tell the cast!
Are you watching Pan Am? Are you hoping it survives?