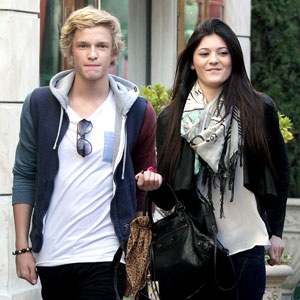 David Tonnessen, PacificCoastNews.com
While big sister Kim Kardashian has been making the relationship news of late, maybe now it's time to start keeping up with the dating life of Kim's youngest sister, 14-year-old Kylie Jenner.
The teenage E! reality starlet was spotted this weekend hanging at L.A.'s Grove Mall with Cody Simpson, aka Australia's answer to Justin Bieber.
But we're sorta not surprised.
Kylie and Cody, also 14, met for the first time earlier this month at the Hollywood premiere of Breaking Dawn: Part 1 when she and her sister Kendall interviewed the pop singer for Ryan Seacrest's On Air radio show on 102.7 KIIS FM.
"You're my rumor boyfriend on Twitter," Kylie said to Cody. "Nice to finally meet you."
Kendall later said to camera, "I think Kylie should date Cody Simpson because they'd be so cute together."
Kylie even went so far as to proclaim, "I'd marry an Australian."
After the premiere Simpson tweeted to the Jenner girls, "had a real good time on the red carpet with you last night. and see ya soon I hope!"
US Weekly claims Cody and Kylie are definitely dating. "They are a couple!" a source told the mag. "They are so cute together."
Reps for Kylie and Cody did not immediately comment for this story.
Now we want to hear from you. Do you think Kylie Jenner and Cody Simpson are cute togther? Chime in below.