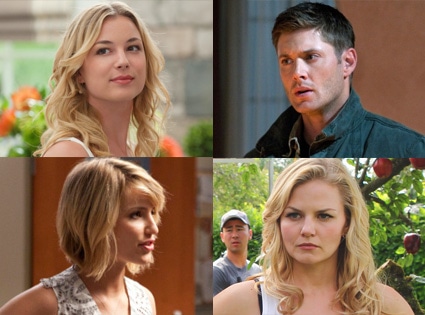 ABC, CW, FOX
A fan-favorite couple may be reuniting, a CW character might meet an untimely end, and an old (dead?) friend is coming back!
These are just three of the juicy little scooplets we have for you in today's roundup of exclusive TV scoop. Plus, did you hear the one about Hugh Laurie quitting TV? We've got that covered too…
Scott Alan Humbert/The CW
@xxLouii anything 90210. Liam and Annie?
Well, if there is no Liam, there can be no Liam and Annie, right? What we're trying to say is…there be a deadly cliffhanger coming up on 90210! "We just filmed the end of our Christmas episode and there is a big cliffhanger coming up with Liam. It's a life or death kind of a thing," Matt Lanter tells us. "He gets physically injured pretty badly, so we're kind of waiting to see if he's coming back." Injured like a broken arm or injured like a broken neck?! "It's pretty serious!" Latner reveals. "He's possibly dead at the end of Christmas break." 90210 without Liam? Nope, we don't like that one bit. Who do you all think is gonna die?
Jackie: You guys have been slacking on the Supernatural scoop lately! Any idea what's coming up on my favorite show?
Bobby's (Jim Beaver) flirting with death after that whole being shot in the head thing that happened last episode. So where does he find himself? Purgatory! Yes, our beloved Bobby will be reliving his life and will come across a dear old friend in the process: Rufus (Steven Williams).
@memetastic: Insert Boring and Obvious Glee question about Boring and Obvious Glee pairing.
Insert vague and intentionally misleading line about boring and obvious Glee pairing. Add in funny jab about said pairing. Beg you to love us. Get shot down. Cry in corner. Finally throw in some scoop: Quinn (Diana Agron) uses a season one tactic to try and "win back" Puck (Mark Salling). And our work here is done.
@beeeez: Glee scoop? What is Rachel's reaction to getting suspended?
Rachel (Lea Michele) takes the punishment for trying to swing the votes in the election very calmly and maturely. Psych! Of course she'll be upset, but if anyone can help her deal with being taken away from show choir, it's her hunky boyfriend Finn (Cory Monteith). Awww….
@imelmooy: Is #Karofsky coming back soon on #Glee? #begging
As far as we know, Max Adler has not filmed anything beyond his cameo in "The First Time." But don't count him out for the back half of the season just yet. After all, Chris Colfer himself told us he'd love to see Kurt and Karofsky having more interaction.
@WemmaLove: How come we never get Wemma?
That's what I'm sayin'! We keep asking our sources for Wemma scoop (over and over!) and they are completely mum (while answering other Q's), which makes me think there's something big in the works. Fingers crossed, anyway!
@chervil: Anything on Once Upon a tTme please! When will we found out more about Mr. Gold?
We'll learn more about Mr. Gold (the ah-mah-zing Robert Carlyle), and his fairy-tale counterpart Rumpelstiltskin, in episode eight, penned by Jane Espenson! "Some crucial facts about where Rumpel comes from," are revealed in the episode, Espenson tells us. As for whether or not he's truly evil, that remains to be seen. "He's a wild card," she says. "His ulterior motives are still always very complicated."
@ddwordnerd: Once Upon a Time, please! I am obsessed with this show!
We are too, so clearly, you have flawless taste in television. Congrats! Remember that deal Emma (Jennifer Morrison) made with Mr. Gold? "He's going to hold onto that for a while," Espenson teases. "He's going to make sure that's paid off when he can get the maximum bang."
Margaret: [Spoiler Alert if you haven't seen the last episode!] So, after the last American Horror Story, are we to believe that Zachary Quinto is not Rubber Man? Is it always Tate in the suit?
That's what my source hinted at, so I believe that to be true. However, we do know that Quinto is coming back in a very big way that you won't see coming. In other AHS news, we are off bananas. You?
Sammie: I heard a nasty Internet rumor that Hugh Laurie is done with House. Tell me this is wrong!
The Internet has an awful way of twisting a story into something completely false. And we love it! Except for this one, because House without Hugh Laurie is not a world we want to live in. The correct story is: Laurie recently told the U.K. site Daily Record that he won't do another TV show after House is done. So, he'll still be on House at least until the end of the current season. It's possible the show may go off the air after that.
@FrancesB: More New Girl por favor!
How cute is this BTS photo of Zooey Deschanel learning how to work some serious hand bells? In tomorrow's ep, she teaches some at-risk youths hand bells (because these are the jingle-jangle skills you need to survive the hood, people!) and Winston (Lamorne Morris) joins the group and becomes ultra-competitive, naturally.
@Wendygirl: I am head over heels for New Girl. Scoop please!
Get in line, because I'm fully prepared to make out with that show, and word from a sources is that the Christmas episode is the "best episode yet." Schmidt (Max Greenfield who will always be Deputy Leo, thankyouverymuch) dresses as "Sexy Santa" for his holiday party and everyone goes. Heartwarming ending, too. So who do you think will be the best "sexy" holiday costumer on your TV this season, Max or Katie Holmes (HIMYM's Slutty Pumpkin)? If you have to even think about the answer, take a hard look at yourself.
@roma_7: some Revenge please?
Grandpa Grayson is comin' to town! Yes, Revenge is currently looking for someone to play Donald Grayson (who will first appear in episode 14), an imposing, self-made man who is a little rough around the edges. Donald made his children (including Conrad) work very hard for their share of his fortune as he's a believer in hard work. Seems like just the person to light a fire under Daniel
Sophia, in Ft. Lauderdale, Fla: Bones! Please and thank you!
In this week's episode, Booth (David Boreanaz) is doing his best to keep his feelings under wraps after his grandfather gives him some very troubling news. Meanwhile, the team is busy unwrapping a body that has been sliced, diced and shipped in multiple boxes to the post office. Word to the wise: There are some pretty gruesome guts and squeamish sounds in this episode, so please choose your TV snack carefully. And if you have ever wondered what Corey Matthews look like all grown up then you're in luck! Ben Savage guest stars as a whipped husband who also just so happens to be a murder suspect. Hmmm, wonder what Topanga would think of that…
Lauren in San Clemente, Calif: I need Suburgatory scoop.
There's a new woman coming to Suburgatory in episode 17, "The Black Dalia" and we're getting a strong sense of déjà vu. Tulsa, is Dallas' (Cheryl Hines) sister (sorority sister to be exact) who is beautiful, in great shape, and has a daughter named Talia. Sounding familiar? Well it should. Tusla is extremely competitive when it comes to keeping up with Dallas and we have a feeling that George (Jeremy Sisto) is going to fall prey.
Redlands: How are the ratings on Raising Hope? Do you think it'll survive another season? I love it.
It's doing OK, but needs to hold on to more of New Girl's audience on Tuesday nights (no small feat), so tell yo friends to watch. This week's episode is pretty great…Jimmy and Sabrina develop a baby mop that is way cuter than my ratty old Swiffer.
@fatherdowling: When is Justified coming back? I need my Timothy Olyphant fix now.
Simma down now, girlie. Just for you, FX is bringing the show back Jan. 17 (airing Tuesdays at 10 pm). You are welcome.
@mommydoing: Ringer spoilers might be good!
Would a wedding and another baby be good? 'Cause the show is currently casting several roles for episode 14, including a wedding planner, a dressmaker at a bridal shop and an ob-gyn. Hmmm…the mind reels.
Jessica in San Luis Obispo, Calif: Amy Farrah Fowler and Dr. Sheldon Cooper. Need I say more? 
Ooh la la, Shamey fans! We're going to start seeing Sheldon (Jim Parsons) dealing with some new hypotheses, like what gift to buy for your neurobiologist honey? Dr. Cooper will be going to a jewelry store to shop for the perfect present and we're willing to bet our limited edition red light saber (jealous?) that it's gonna make this couple more shmooshy.
@caritogutierrez: How about an early Christmas present in the form of some Modern Family scoop?
We're currently putting the final touches on your gift, big glittery bow and all! We were recently on the set of Modern Family for next Wednesday's Christmas Episode and later this week we'll give you our exclusive behind-the-scenes look. But for now here's a stocking stuffer: Julie Bowen reveals to us, "The family realizes that they are not going to be together for Christmas and they've got six hours to pull it together, so today is the first day of Express Christmas." Oh and Sofia Vergara is in a bikini for the majority of the episode. Too bad they're not gonna get any male viewers with this one. Ahem.
@Hh234: Anything you can tell us about William Shatner's appearance on Psych this week?
Psych stars James Roday and Dulé Hill were over the moon about the Star Trek icon's guest gig as a con man—and Juliet's (Maggie Lawson) father. "William Shatner was absolutely fantastic," Roday told us about Wednesday's episode. "It was the only time in the six-year history of our show we witnessed crew members coming to set with stuff they wanted signed and nervous to talk to someone." "He's a machine," said Dulé. "We felt a little embarrassed, that [an 80-year-old man] has so much energy—the bar has been set." "I can never complain about being tired on set again," J.Ro joked before introducing the cast and crew's new catchphrase: "You just gotta Shat up…I don't care how tired you are or how many hours you spent on set, you just gotta Shat up."  Love. It.
Liz: I heard a rumor that Neil Patrick Harris is pushing to get his kids on the show…possibly as Lily and Marshall's new baby?
Here in Hollywood, it's practically a law to believe every rumor you hear, so we say yes to this! Just kidding, Harris shot this down cold on Twitter recently, referring to the baby we saw in last week's episode: "Twas not our daughter on this week's HIMYM. Would never subject her to the rigors of a soundstage. I'm saving her for the pageant circuit."
@lindsx11: The Secret Circle please!
Get ready for someone from Charles (Gale Harold) and Dawn's (Natasha Henstridge) past…one of his ex-girlfriends! Lauren will pop up in episode 13 and while she intimidates Charles' mother, who convinced him to break up with her, she's more than a little intimidated by Dawn. Expect to see Lauren, who is timid but holds dark strength, interact with Diana (Shelley Hennig) as well.
Quinn: I'm dying for some True Blood scoop!
The fangtastic HBO hit is looking to add a few new vampires to the mix in season five. True Blood is currently casting the Authority council members so we're thinking these vamps mean business. Kibwe is gentleman vampire who believes in vampire rehab, while Rosalyn is a Texas fanger with a whole lot of hair. But the most intriguing council member? A 9-year-old vampire named Alexander who loves cigarettes and annoying the rest of the council. Smoking aside, we're stoked for Alexander's debut!
@Brenda33331: Give us something on PLL please!
Prepare for some heartbreak because Pretty Little Liars' core four is breaking apart when the hit show returns in January! About a month has passed since Aria (Lucy Hale), Emily (Shay Mitchell), Hanna (Ashley Benson) and Spencer (Troian Bellisario) were arrested and they "are at each others' throats!" Meow! Emily in particular has been iced out completely, which might leave her vulnerable to "A."
@ChicaNikki149: One week without #Nikita was bad enough, but a whole month? Please give us some Michael & Nikita scoop before the wait! :)
We hang our heads in shame. But we're totally making up for it! We're actually kidnapping and dragging Maggie Q to our E! headquarters to grill her on what's coming up on Nikita. OK, she's coming voluntarily as a guest, but we are talking to her this week. Better give us some questions to ask Maggie!
—Additional reporting by Jenna Mullins, Tierney Bricker, Drusilla Moorhouse, Marc Malkin, Christina Dowling and Leanne Aguilera