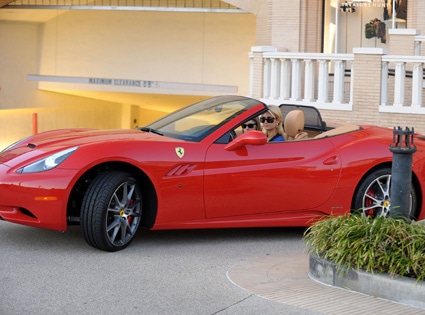 Anthony Monterotti, PacificCoastNews.com
Well, this sure beats pepper-spraying your way past the competition for Black Friday merchandise.
While others were scrambling for cut-rate waffle-iron deals the day after Thanksgiving, Paris Hilton was treating herself to one very expensive ride (and no, it doesn't look like it was on sale).
The 30-year-old heiress scooped up a red 2012 California Spyder Ferrari worth about $300,000 on Friday, a Hilton source confirms.
And the Hilton source confirms that confirmation.

"Just drove my new car for the first time," Hilton tweeted Friday. "Such a beautiful car and so much fun to drive! I love it! #YES! I ♡ Fast Cars!"
Our Hilton source tells E! News, "She decided to treat herself to an early Christmas gift. She worked very hard this year and just got home from traveling to 12 different countries to open her stores."
"Paris has always wanted a red Ferrari ever since being a little girl. She is a huge tomboy at heart and loves fast cars and bikes," the source says.
"She even has her own MotoGP racing team. Her team recently won the world MotoGP championships so she is celebrating!"
The Ferrari is the latest addition to the star's extensive car collection, which includes two Bentleys, a Range Rover, a hybrid Escalade and a Lexus LFA.