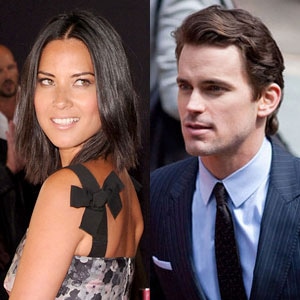 WireImage/Getty Images
We've been so caught up in whether Olivia Munn will fire back at (alleged) seafood enthusiast Brett Ratner that we nearly missed her chatting about the steaminess that is the upcoming stripper flick Magic Mike.
And no, she's not gushing over the 12-pack sensation you Awful readers think should be her next BF (that'd be Joe Manganiello, FYI). She's teasing our personal fave fella (squee!)...
Blue-eyed beauty Matt Bomer, of course!
"I'm furious that I'm not there watching Matt Bomer shake it," Olivia dished to swanky NY Mag recently. "Because he can shake it, probably better than most people in the world."
That noise you hear? Just our hearts beating out of our chests The Mask style (we had to dig up an old school reference to clearly illustrate how worked up this got us).
This almost has us as excited as hearing Matty B. talk about putting his thong on wrong.
See, we love us some White Collar hunk and have been waiting for him to get his big-screen break since, well, forever. And while we were a bit worried that he'd get overshadowed by admittedly bigger names like Alex Pettyfer and Channing Tatum (not to mention Joe M.), it's good to know our girl O is giving him some mucho deserved stripper cred.
"I'm not getting a sneak peek—I'm front and center, going, 'Oh my gosh!'" Munn said about her time on set with the boy. "I'm not a very shy girl, but when I watch them, I become a very shy, giggling Japanese schoolgirl: 'I can't believe I'm watching this!' "
And just like that we're back to hatin' the broad. Just kiddin', but she is one lucky be-yotch!