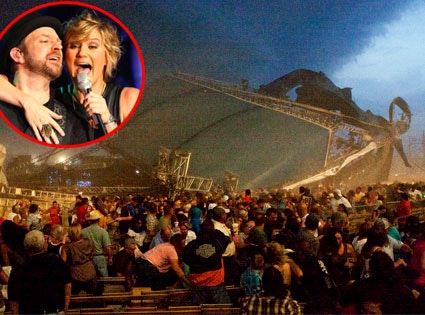 Mike Coppola/Getty Images, Joey Foley/Getty Images
Sugarland has unfortunately found itself in a sticky legal situation.
The country duo are being sued by 44 victims of last August's terrifying stage collapse at the Indiana State Fair for negligence.
Here's the deal.
The complaint, filed in Marion Superior Court in Indianapolis and a copy of which was obtained by E! News, accuses Sugarland, concert promoter Live Nation, ESG Security, the stagehands' union, and other companies of failing to ensure a safe environment for concertgoers that contributed to the tragedy.
On Aug. 13, massive gusts of wind from a coming storm caused the outdoor stage at the fairgrounds to topple over onto the front rows, killing seven people and injuring over 45. The members of Sugarland, who hadn't yet taken the stage, were not hurt thanks to a spontaneous decision by their manager to hold a prayer circle just beforehand, which kept them from walking down a ramp and saved their lives.
They subsequently tweeted their condolences in the aftermath and members Jennifer Nettles and Kristian Bush returned to Indianapolis last month to perform a free benefit concert.
Among the plaintiffs in today's legal action are the estates representing four of the people who died as well as dozens more who were injured.
According to court papers, both the band and producers failed to pay close attention to weather reports and pull the plug on the show before things turned hazardous. Sugarland was named in the suit because their contract included a clause giving the pair final say on whether to scrap a gig due to inclement weather.
"Unfortunately, this tragedy could have been prevented if the responsible parties had been concerned about the concertgoers that night," plaintiffs' attorney Mario Massillamany said in a statement.
Added co-counsel Scott Starr: "This is a devastating tragedy that has impacted hundreds of people. It is critical to help the victims pay the medical bills and other financial expenses that they have incurred from this incident."
The suit seeks unspecified damages.
Attorneys for Sugarland could not be reached for comment.