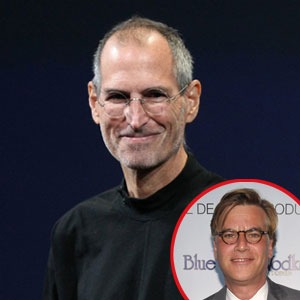 Justin Sullivan/Getty Images; John Shearer/Getty Images
Aaron Sorkin is taking on one tech mogul at a time!
Earlier this year, Sorkin won an Oscar for Best Adapted Screenplay for his Facebook flick The Social Network.
And now, the 50-year-old screenwriter confirms that a biopic about late Apple cofounder Steve Jobs could be next...
"Sony has asked me to write the movie and it's something I'm strongly considering," Sorkin told us at the P.S. Arts Express Yourself 2011 event in Santa Monica.
It was reported last month that Sony had acquired the rights to Walter Isaacson's authorized biography of Jobs and have Sorkin as their top choice to pen the film.
"Right now I'm just in the thinking-about-it stages," he said. "It's a really big movie and it's going to be a great movie no matter who writes it."
Sorkin says the only research he's doing at the moment is reading Isaacson's book.
"He was a great entrepreneur, he was a great artist, a great thinker," Sorkin said of Jobs, who passed away in October of pancreatic cancer at the age of 56.
"He's probably inspired [my 11-year-old daughter] Roxy more than he's inspired me," he smiled. "She plays with all his toys."