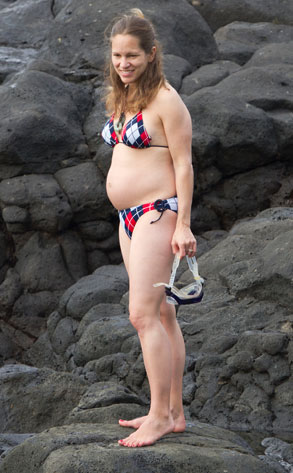 Flynet
Whoa, mama!
You don't have to be a modern-day Sherlock to deduct that Robert Downey Jr.'s wife's pregnancy is moving swiftly along—just take a look at the latest paparazzi pics to surface of the couple's Hawaiian vacation.
And rest assured, though RDJ isn't pictured, he was right alongside his wife, doting away.
Though the duo already know the gender (talk about a spoiler alert!) and have picked out a name for the impending stork delivery, the parents-to-be aren't spilling the beans just yet.
What we do know is that Susan is roughly six months into her first pregnancy—due sometime early next year—and that the mama-in-training is perfectly proud of her growing belly (as well she should be!), showing off her expanding baby bump in a stylish bikini. Way to make pregnancy look good.