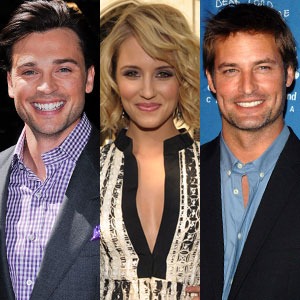 Ray Tamarra/Getty Images; John Shearer/Getty Images; David Crotty/PatrickMcMullan.com/Sipa Press
Mirror, mirror on the wall, we love fairy tale characters coming to life on Once Upon a Time so much that we've decided to cast them all!
Cheesy lead aside, with ABC's new hit series casting our fairy-tale characters left and right, we felt the urge to jump in on the action and forcefully demand respectfully suggest some of our picks to take on the iconic roles. Are you listening, producers?!
So who are we liking for Ariel, Alice, Aurora and others? Get our picks and weigh in with your own...
While some of our choices are pretty obvious (see: Dustin Hoffman as Captain Hook because, well, duh!), we tried to spread the wealth and nominate some unexpected actors for the magical roles, like Tom Welling (The Little Mermaid's Prince Eric) and Zachary Levi (Rapunzel's Flynn Rider). OK, so a lot of are choices are pretty obvious, but it's not our fault some of our TV favorites are so damn good-looking they are nearly identical to fictional princes. 'Tis the burden they must bear. Plus, we offered up an idea for a pretty epic Lost reunion that would make a certain fanbase very, very happy. 
So check out our Once Upon a Time Dream Cast gallery for our top picks to take on some of the most beloved fairy tales characters, and you can even give our choices a thumbs up or a thumbs down. Go on...judge us! Then head on over to the comments and let us know your casting suggestions or, heaven forbid, if we forgot your favorite prince, princess or villain. 
We will be sure to forward these results/ideas to the (awesome-sauce) producers of our favorite new fairy-tale show. So sound off now!
Once Upon a Time airs Sundays at 8 p.m. on ABC.