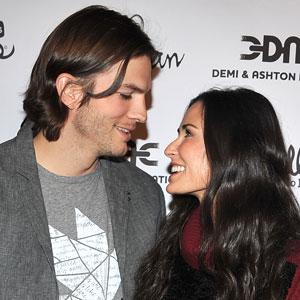 Theo Wargo/WireImage
Ashton Kutcher and Demi Moore are no more.
And no matter how many red flags and warning signs we spotted on the way to this point, it doesn't make the end any less sad.
So as we mourn the end of Dashton, here's a look back at the way they were—and how they came to be.
2003: Demi was 41; Ashton was 25. Never minding the gap, the seemingly odd couple hit it off big-time when they meet—not at a dinner party thrown by Diddy, as was widely rumored—at a play in NYC. Demi later told Harper's Bazaar she was wearing her "dress that gets results" on that "life-changing evening."
February 2005: The couple slip off to Cabo San Lucas for a romantic getaway, but deny rumors that they came back engaged, let alone married.
Sept. 24, 2005: After two years of dating, the happy couple tie the knot in a Kabbalah ceremony in front of Demi's daughters, Bruce Willis and Wilmer Valderrama and 95 others at their Beverly Hills home. Demi wore Lanvin, while Ashton wore a Brooks Brothers suit and a trucker hat. Kidding! He wore a fedora.
August 2006: Ashton tells Parade that he and the missus had one fight during their first three months of dating—and nothing since. "We deal with issues before they become arguments," he says.
November 2006: Demi reveals that she, Ashton, her three kids with her ex-husband and her ex-husband are one big happy family. "We spend all our holidays together," she tells Access Hollywood. "You have to work towards getting over what might have been awkward, or uncomfortable."
January 2007: Demi tells Vanity Fair she "most definitely" wants kids with Ashton. "At the risk of sounding really cliché, he's really an old soul," she says of her hubby.
2009: Ashton and Demi start tweeting personal stuff and the digital world is never the same.
March 21, 2009: Demi and Ashton look on as Bruce Willis swaps vows with Emma Hemming in Turks and Caicos.
April 2010: Demi tells Elle U.K. that she and Ashton liked the idea of having kids. "It would be another incredible part of our journey together," she said.
Sept. 1, 2010: Kutcher is tweetin' mad when Star labels him a cheater, warning the tabloid, " you don't get to stand behind 'freedom of the press' when you are writing fiction." His alleged crime? Canoodling with an anonymous blonde outside the bathroom of a West Hollywood restaurant.
Sept. 24, 2010: Moore and Kutcher snuggle up in bed and watch Breaking Bad on their fifth anniversary. We know because they tweeted a pic.
Oct. 11, 2010: Ashton reveals that they're in Israel to "forge bonds with our similarities & find compromise in our differences."
Dec. 3, 2010: Vivid Entertainment markets a sex tape featuring Brittney Jones, whose claim to fame is that she told Star that she had a fling with Ashton while Demi was out of town. Ashton denied all.
Feb. 5, 2011: Ashton and Demi hit up a host of pre-Super Bowl bashes in the Dallas-Ft. Worth area.
April 2011: The couple's Real Men Don't Buy Girls campaign for their DNA Foundation, which they formed to put an end to sex trafficking, is the subject of controversy when not everyone appreciates the humor in their PSAs.
May 2011: Ashton lands the plum role of Charlie Sheen's replacement on Two and a Half Men and becomes the highest-paid sitcom star on TV. Just like that.
Nov. 12, 2011: Ashton whisks Demi away to Bruce Willis' vacation home on Turks and Caicos for a reconciliatory weekend—and to celebrate her 49th birthday. "It was very apparent they weren't getting along," a source tells E! News. "It was weird all weekend."
Nov. 17, 2011: Demi announces that she is divorcing Ashton after six years of marriage "with great sadness and a heavy heart." Ashton tweets: "I will forever cherish the time I spent with Demi."
Demi, meanwhile, needs a new Twitter handle.
A source tells E! News that the Sara Leal scandal truly was the final straw for Demi. "She found out about the whole thing when everyone else did and she was devastated," says the source. "He initially lied about the girl. She felt like she just couldn't trust him."
—Additional reporting by Ken Baker