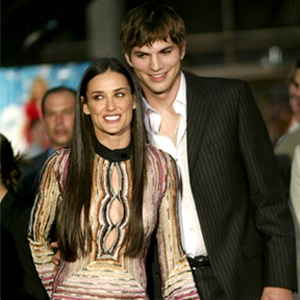 Chris Polk/FilmMagic
Demi Moore has had enough.
"It is with great sadness and a heavy heart that I have decided to end my six-year marriage to Ashton," she said in a statement obtained by E! News.
"As a woman, a mother and a wife there are certain values and vows that I hold sacred, and it is in this spirit that I have chosen to move forward with my life. This is a trying time for me and my family, and so I would ask for the same compassion and privacy that you would give to anyone going through a similar situation."
Well, folks, it was a valiant effort.

"I will forever cherish the time I spent with Demi," Ashton Kutcher just tweeted, adding on his Chime page, "Marriage is one of the most difficult things in the world and unfortunately sometimes they fail. Love and light, AK."
Now, we know Kutcher said he would have his management team shadow-editing his tweets from now on, but...this at least sounds like all him.
Aside from the wide-eyed disbelief that accompanied their courtship in the first place, from the 16-year age gap to the fact that they spent so much time with Moore's ex, Bruce Willis, the couple seemed to enjoy a pretty harmonious life together.
If you don't mind having to prove how smokin' hot you still are in your late 40s to the Twitterazzi from time to time, that is.
But the tabloid headlines about Kutcher's alleged affair in September during a guys' weekend in San Diego proved too much for this match made in cougar heaven.
While the struggling duo went camping and to Kabbalah counseling behind the scenes—and most recently were reportedly trying to reconcile at Willis' vacation home on Turks and Caicos, they have not made any public appearances together in months.
We heard that Moore was really trying to hang on to what they had—but everyone has a limit.
This was the 49-year-old mother of three's third marriage and Kutcher's first. A rep for Willis, who was married to Moore for 10 years and remains a close friend, said that the actor "has no comment with regards to this matter."
(Originally published Nov. 17, 2011, at 1:34 p.m. PT)