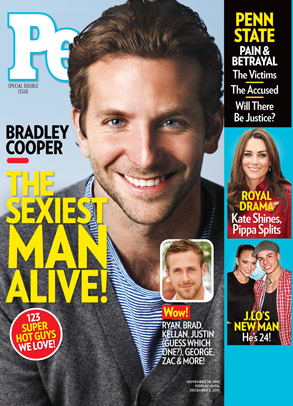 People Magazine
Ladies and select gentlemen, the latest lustworthy object of our affections has been crowned, and he is certainly a cure for what ails you.
Particularly if what ails you is a Hangover.
Yes, the piercingly blue-eyed, artfully hair-tousled, French-speaking (ooh la la!) Bradley Cooper has been chosen by the ever-aesthetically-inclined People magazine as their Sexiest Man Alive 2011.
Better luck on those threepeats next year, George, Brad and Johnny. So, what did this fine human specimen have to say about his oh-so-important honor?