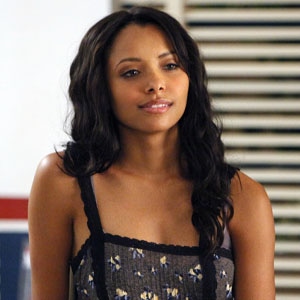 Quantrell D. Colbert/The CW
Hot and sexy. Charismatic and troubled. Yep, sounds like the perfect description of a love interest on the CW.
The Vampire Diaries will be bringing in a new love interest of the bad-boy variety for its resident witch Bonnie (Kat Graham), who was recently burned by her ghost-lovin' ex Jeremy (Steven R. McQueen), and they've recruited a former Veronica Mars star for the gig.
So who's playing the new guy that'll catch Bonnie's eye? We've got the exclusive scoop...
Robert Ri'chard (played Mason on Veronica Mars) is taking on the potentially recurring role of Jamie when the hit show returns in January.
Jason Merritt/Getty Images
Viewers will meet Jamie in episode 12, when Bonnie and Elena (Nina Dobrev) go on a little road trip. Described as handsome (obviously) and a little rough around the edges, Bonnie immediately takes an interest in Jamie. Get it, gurl!
Also set to appear in episode 12? Bonnie's mother Abby Bennett, who will be played by Girlfriends star Persia White (EW first reported the casting). Coincidence? We think not! We're hearing Jamie definitely has a connection with Abby...just not one of the love variety. Something they share in common? They're both hot and troubled! You see, Abby is burdened by the secrets of her past that led her to leave her daughter.
Ri'chard most recently appeared on USA's Meet the Browns as Derek. Prior, the very-easy-on-the-eyes actor played Arnaz on One on One and starred in films such as House of Wax and Coach Carter.
What do you think, TVD fans? Is Robert hot enough for our beloved Bonnie? Do you think he is also a witch? Or should Bonnie run back to Jeremy?
Sound off in the comments!