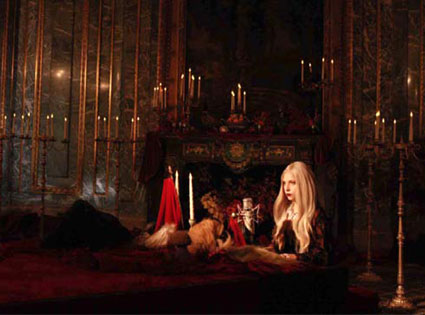 ABC
Thanksgiving is coming early, little monsters.
Lady Gaga is sharing not one but two exclusive treats with E! as she preps two major new undertakings, her ABC holiday special and her book with hot-button photographer Terry Richardson, Lady Gaga X Terry Richardson.
In the exclusive photo above, the pop star returns to her alma-mater, Sacred Heart Catholic school for A Very Gaga Thanksgiving, her 90-minute ABC special airing Nov. 24 at 9:30. On she'll perform eight songs, including "White Christmas," "Marry the Night" and "Lady Is a Tramp (with Tony Bennett), and do a sit-down with Katie Couric to talk about her life, relationships and music.
And then, of course, she'll deep-fry a turkey. (Really!) But now on to that new video...
In it, Gaga lounges on a couch to share the opening pages—and hello! reads them to you—of the new book. Richardson, most recently known for his GQ Glee shots, Beyoncé and Britney Spears ads and other provocative shoots, followed the singer for 10 months as she recorded Born This Way, performed on stage and appeared on TV—shooting upwards of 100,000 images in order to come up with the 350 images chosen for the tome.
Check it out!
And hey, here they are together!
What do you think—would the Pilgrims approve? Sound off in the comments!