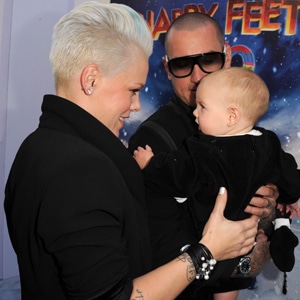 Kevin Winter/Getty Images
Talk about red carpet cuteness!
Singer Pink showed up to yesterday's Hollywood premiere of her new movie, Happy Feet Two, with hubby Carey Hart and the most adorable accessory of all: their 5-month-old baby daughter Willow Sage.
And the little one is just the beginning for Pink and Hart...
"We want a basketball team," the "Raise Your Glass" singer told us. "We want lots and lots and lots."
Pink gushed that baby Willow is "healthy" and "happy."
"She stops crying when I sing," Pink smiled. "My dogs leave the room and she stops crying."
She added, "I sing 'You Are My Sunshine' and I make up songs for her because I'm goofy."
However, the 32-year-old first time mama says little Willow isn't exactly inspiring songs for her next album.
"I promised my fans I wouldn't write an album full of lullabies," she told reporters. "So I'm swallowing that as we speak."