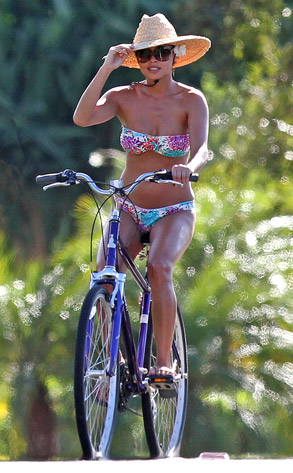 BAUER-GRIFFIN.COM
It's all fun in the sun for Vanessa Minnillo.
The erstwhile True Beauty judge enjoyed a leisurely bike ride around Maui with her hubby, Nick Lachey, on Thursday and showed off one buff bikini bod to admiring paparazzi.
The newlyweds, who tied the knot in July, were on holiday in Hawaii this week to mark the occasion of their birthdays, which happen to fall on the same day—Nov. 9.
While Minnillo kept her hat on, her hunky other half opted to accompany her shirtless (he wasn't in 98 Degrees for nothin', ladies).
But with Lachey's ex-wife, Jessica Simpson, recently announcing she's expecting her first child and The Sing-Off host revealing to E! News over the summer that he and Minnillo are looking to start a family of their own, we're guessing the lovebirds are using their vacation time wisely.