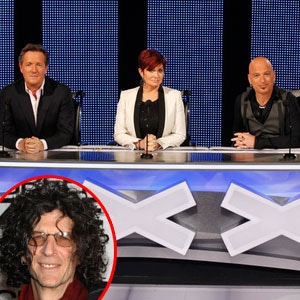 Justin Lubin/NBC, Jamie McCarthy/WireImage
In Howard Stern's opinion, he'd be a great judge on pretty much anything—American Idol, Dancing With the Stars, a Herman Cain sexual-harassment accuser beauty pageant, etc.
The shock jock's name was briefly linked to Idol when it needed a judge to replace Paula Abdul, it turns out that NBC is now talking to the controversial radio host about joining America's Got Talent as a judge, now that Piers Morgan is leaving.
Talk about a refreshing summer treat!
Sources confirm to E! News that Stern has talked to AGT producers about coming aboard to replace Morgan.
The Wall Street Journal, which first broke the news, puts his proposed salary at $15 million a year—and also reported that NBC would consider moving the L.A.-based show to New York to accommodate Stern.
Talking on the air about how nice it would be to have a cushy gig besides his Sirius-XM Satellite Radio show, Stern remarked that a game show seemed like too much work, but that Howie Mandel "hit the jackpot" when he scored his AGT spot.
"I need an outside gig where I do nothing except, like, a simple thing," Stern said. "Like judging one of those talent shows."
Well, Stern's certainly got opinions, and he's buddies with Sharon Osbourne and producer Simon Cowell, both of whom have been guests on his show multiple times. And considering he only tapes his show three times a week on Sirius...This could actually happen.
In announcing his departure, Morgan said it was more difficult than he realized to do both his CNN show and AGT at the same time. But that poor bloke had to commute between L.A. and NYC.
Aside from his on-air musings, Stern has not yet commented officially on the negotiations.