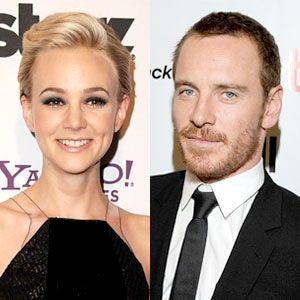 Steve Granitz/WireImage; Clinton Gilders/Filmmagic
We already know Carey Mulligan found singing in her new movie Shame scarier than going naked.
Her costar, Michael Fassbender, not so much.
"I always want to sing," the actor told me smiling at last night's AFI Fest presented by Audi gala screening of the Fox Searchlight film. "It would be the reverse for me, because I'm singing all the time."
Fassbender plays an out-of-control sex addict whose emotionally unstable sister (Mulligan) comes to live with him in New York City. While Mulligan's nudity is limited to one scene of her finishing up in a shower, Fassbender goes full-frontal a lot while engaging in sex so graphic the movie got an NC-17 rating.
"You know, it's always awkward getting naked and masturbating—well, simulating it at least—with a bunch of strangers in the room," said the Irish heartthrob, who most recently starred as Magneto opposite James McAvoy in X-Men: First Class. "But you gotta get over that and get on with the telling of the story."
But this is not porn disguised as an art-house flick. The sex is anything but erotic. "The scenes where there are sexual encounters with the characters are so important in terms of where he's at and what his mental state is," Fassbender said. "It's not about titillation and exploitation."
Even so, I had to ask Fassbender what his parents think of the movie. His dad watched it with him at the Venice Film Festival. "My mom was supposed to be there, but thank God, her back played up at the last minute," Fassbender said. "I think it was psychosomatic. Throughout the movie, I was thinking, thank God my mother's not here."
Before hitting the red carpet last night, Fassbender took photos with fans who were lined up to see him. Later on, he hit the afterparty at the Hollywood Roosevelt Hotel.