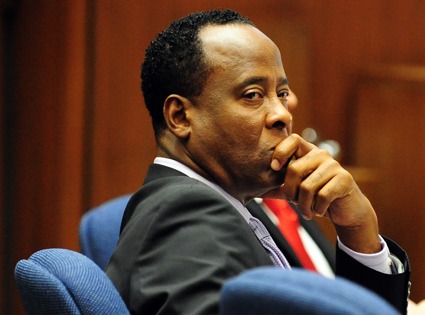 Robyn Beck-Pool/Getty Images
Conrad Murray may be a convicted felon, but his days as a doctor aren't necessarily over—not by a long shot.
Jennifer Simoes, a spokeswoman for the Medical Board of California, tells E! News exclusively that the disgraced cardiologist—now reduced to practicing push-ups in a Los Angeles County jail after he was found guilty Monday of involuntary manslaughter in Michael Jackson's death—could apply to get his medical license reinstated.
Whether he gets any referrals, however, is another matter.
While Murray's medical license was temporarily suspended in January after the pretrial, per the spokeswoman, the medical board has not yet begun official proceedings to yank his license to practice in California. Instead, she says the Medical Board will wait until after Murray's sentencing on Nov. 29 to convene administrative hearings on the matter.
"Once the sentencing takes place, we don't have to prove he has committed a crime because he was convicted, so then we have to investigate whether this crime was substantially related to the practice of medicine," Simoes tells E! News.
Simoes adds that even though this is a high-profile case, the Medical Board will still hold its own hearing on the facts. Murray could then participate via phone (that is, if jailhouse guidelines allow) or have his attorney appear on his behalf. He could also just bypass the medical board investigation altogether and agree to surrender his license.
"Regardless if he is incarcerated or not, we go through our normal enforcement process—and there are a lot of outcomes that could happen," states Simoes.
According to the spokeswoman, an administrative law judge will hear the matter then issue a "proposed decision." Then the medical board will make the final call as to whether to strip Murray permanently or not.
Simoes says if the California board decides to do so than that information would be put in a national database, adding that "many states will take action based on another state."
As Murray still has an active medical license in Texas, that could certainly put a damper on things once he gets out of the joint.
But just because California decides to take away Murray's licenses, Simoes notes, there is nothing that prohibits a physician from applying for reinstatement after three years, though they "would have to prove they have rehabilitated."
Murray might have a tough go, however, as he would have to plead his case to the same California medical panel that revoked his license in the first place.
"It would be up to the board to determine whether or not they would want to do that," Simoes tells E! News. "It would have to be granted against the same board that took action against his license."