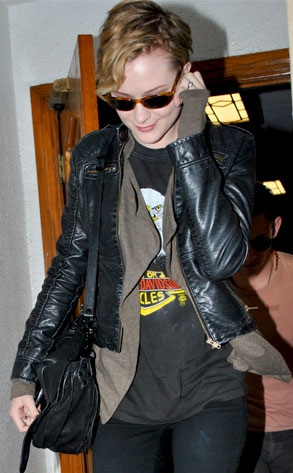 JD Pht Bx and MCGM / Splash News
Is that a wedding Bell we hear see?
Rumor has it Evan Rachel Wood is headed down the aisle with British beau Jamie Bell after the actress was spotted exiting a dental appointment (ouch) sporting some serious ring finger bling.
The Ides of March starlet made no attempt at hiding the enormous diamond bauble that graced her ring finger while out and about in Beverly Hills yesterday, and it's not as though the 24-year-old hasn't made her feelings for Bell permanent already—she does have his name tattooed on her ankle, after all.
But does this mean what we think it means? Is Evan Rachel Wood engaged? Don't polish the good silver just yet, because this rumor is…
So false!
But don't take our word for it. Take Evan's.
The speculation didn't run rampant for too long, as just a few hours after the photos of her alleged engagement ring made the online rounds, Wood took to Twitter to clear up any confusion.
"Sorry to disappoint, but I have been wearing that diamond on my left hand since I was 14," she wrote. "It was my aunts. Any engagement rumor is false."
Oh, Evan. Don't apologize to us. But someone might want to console Jamie.