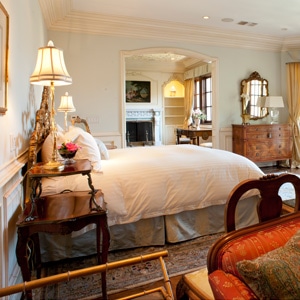 AP Photo/Dan Steinberg
Talk about timing.
On the same day that Dr. Conrad Murray was found guilty of involuntary manslaughter in the death of Michael Jackson, an announcement was made that several items from the L.A. home where the late King of Pop became fatally ill will be auctioned off.
So what are some of the things up for bid?
While Julien's Auctions makes no mention of Jackson in its press release, Darren Julien reveals that many of the items and various furnishings within the residence are indeed connected to the music icon.
Namely, and sadly, what eventually became Jackson's death bed.
Julien tells E! News that the price for bed will start around $3,000-5,000, but that "we let the market dictate its final price."
Some of the other contents include a gilded Louis XV headboard and several pricey paintings by the likes of Maurice Utrillo and Henri Rousseau.
Among the more personal items, there's a kitchen chalkboard with a note that reads: "I (heart) Daddy. SMILE, it's for free" as well as an antique armoire with a message written on the mirror by Jackson to himself regarding the upcoming tour he was scheduled to begin in London. "TRAIN, perfection, March April. FULL OUT May," it reads.
The auction is set for Dec. 17.
—Reporting by Baker Machado