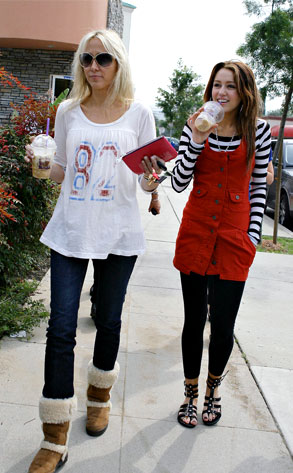 Fame Pictures, Inc
First TV, then music, then movies and now books. Miley Cyrus is truly the princess of all media.
Disney's tween moneymaking machine has signed a reported seven-figure deal to pen her memoirs—at the ripe old age of 15.
Alas, there won't be any chapters devoted to batches of pseudoscandalous, eyebrow-raising photos. Instead, Cyrus' book will delve into her life in Billy Ray's brood, focusing mostly on her relationship with momager Leticia.
"I am so excited to let fans in on how important my relationship with my family is to me," the Hannah Montana star said in a statement Tuesday. "I hope to motivate mothers and daughters to build lifetimes of memories together and inspire kids around the world to live their dreams."
The book will no doubt touch upon the influence of her once mulleted "Achy Breaky" father, as well as her early life in Tennessee, her move to Los Angeles and her soaring fame.
The untitled tome, which will be released in synergistic fashion by the Disney-Hyperion Books imprint, also features previously unseen photos (not those) and family stories from the Cyrus family, and will have an initial printing of 1 million copies.
The memoir is due out in spring 2009, not so coincidentally when the Hannah Montana movie is also set for a big-screen release.