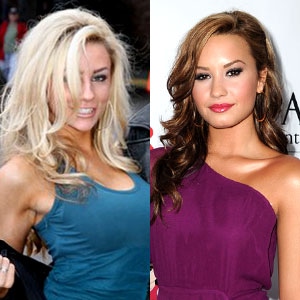 Frazer Harrison/Getty Images
Just call it the Courtney Stodden effect. 
It seems like everywhere we look these days there's an older dude macking on some young, hot chick (really, like that's anything new). But think of Jake Gyllenhaal and Taylor Swift, Hayden Panettiere with her slew of older admirers. And now Wilmer Valderrama and Demi Lovato are getting in on the May-December action.
And of course, there's the "Teen Bride" herself, Ms. Stodden. And since people got in such a tizzy over Demi and Wilmer's 12-year age difference, we had to turn to Court herself to see what she thought about all the Demi and Wilmer fuss:
"I find it beautiful for any couple who find love, regardless of the age differences," Courtney gushed about the on-again duo, who recently made headlines for their "controversial" age difference and hot and heavy smooch sessions.
Wow! When you put it like that, Demi and Courtney are two peas in a barely legal pod!
So, now that Stodden's become the poster child for the phrase, "age is just a number," we were dying for her to explain to us why older dudes still get crap for hitting on young gals, but everyone totally roots for the cougars to land their men (Demi Moore, anyone?!).
"Because women feel they've leveled the playing field with this cougar epidemic," Courtney told us exclusively.
"They feel more empowered with this type of situation, rather than when the older man is dating a younger hot woman. For many years, the older men have gone for the young, hot women, and now it's turned around and people are more accepting of it."
Even though we agree, does anyone really care?
Lots of people, apparently. And while Demi and Wilmer got it pretty easy (maybe because they're much closer in age, and Demi is over the ripe age of 18), we wondered if Courtney had a different idea why the public was zeroing in on her?
After all she did have her mama's blessing.
"Because of the obvious. I was 16 he was 51," she told us flat out. "But when you define the both of us as human beings, people find us very interesting, very unique and fascinating, and we're not afraid to express our relationship to the world."
No, you certainly aren't afraid to express it, Cort! Everywhere ya go! Kinda like what Demi and Wilmer are doing. Oh well, it's been a rough year for Demi, maybe a steamy fling is just what she needs. Guess we should all just lay off.
—With additional reporting by Kim Cronce and Emily Wo