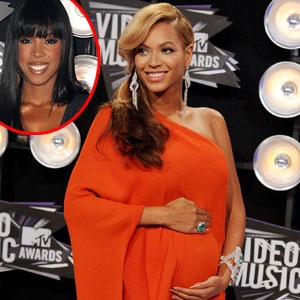 Steve Granitz/WireImage, Jason Merritt/Getty Images
"Baby Boy" it's not?
Someone close to Beyoncé and Jay-Z purportedly spilled the beans recently regarding the gender of their pending bundle of joy being a girl.
This good friend (and onetime collaborator) just couldn't keep her big mouth shut, and now has found herself in something of a "dilemma."
Who is she?
Why, it's Kelly Rowland!
B's erstwhile Destiny's Child bandmate was so thrilled about Beyoncé's upcoming birth and helping out on diaper duty, she inadvertently revealed the child's sex for the first time.
"I'm so happy for my sister and her husband. They're so happy in this moment right now, as they should be. They've made a little bundle of love, I'm so excited for them," the excited songstress told the UK's BANG Showbiz on Thursday.
She continued: "I have no idea what I'm going to buy Beyonce at the baby shower because Jay is going to buy that little girl every single thing possible. She won't be spoiled but she will be very well looked-after."
Now can she just say her name?
Rowland, 30, was in London for the Cosmopolitan Ultimate Women of the Year Awards accepting the award for Ultimate TV Personality.
The X Factor U.K. judge also added that she'll "be on hand for babysitting duties" and that she's "actually very good with messy diapers!"
No doubt, she and Beyoncé will be there when the little diva in training asks for some voice lessons too.
Reps for the two singers could not be reached for comment.