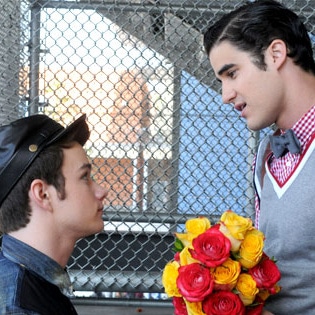 Mike Yarish/FOX
A warning if you are a Glee fan who identifies yourself as a lover of "Finchel" (Finn and Rachel) or "Klaine" (Kurt and Blaine). The next episode is going to take your heart, put it into a vice grip and—kablooey!—blow it up into a million tiny little pieces. You have been warned.
I just watched Glee's "sexual awakening"-themed episode "First Time," which airs this coming Tuesday on Fox, and there are things you must know. So contact your cardiologist to make sure your heart can stand it, then check out this scoop...
What to Expect From Glee's "First Time"
FINCHEL HOTNESS: (And yes, it deserves ALL CAPS!) If you haven't really been a fan of the Finn and Rachel dynamic in the past, you might just start rethinking things. Lea Michele and Cory Monteith's chemistry has never been better than in this episode, which, yes, centers around the couple weighing whether they want to sleep together for the first time. It is some of these actors' best work yet.
KLAINE HOTNESS: Read the entire paragraph above and sub in the names "Darren Criss" and "Chris Colfer." Done and done.
Romance, Too! Though sex is certainly the word of the day, the episode gives both couples more depth of emotion than we've seen so far this season, and a few lines will take your breath away if you are a fan.
The Warblers Are Back: And subsequently, the sun never stops shining and angels everywhere are getting their wings. We missed you and your cute uniforms, boys! 
Sebastian Has Come: Yep, the guy (Grant Gustin) they cast to supposedly come between Blaine and Kurt has made his arrival and he is anything but subtle in his advances toward Blaine. Well, unless you consider calling someone "sex on a stick" totally benign small talk? 
Coach Bieste Gets Hers, Too: Cooter the football recruiter (Eric Bruskotter) has come to town to scout talent for Ohio State, and serves up Dot Jones with some great material. (You may tear up a little.) He is her new love interest and, as you may recall, Rachel and Blaine aren't the school's only virgins.
Note to Wemma Fans: Not much to report for you from this episode, sorry! But we'll get more Wemma goodness soon.
A New Nemesis for Sue: One who is awesome. And deserves more screentime.
Finn Heartbreak: Can't say what kind, but it's Cory's meatiest scene so far this season!
Some of the Best Lines…Can You Guess Who Says 'Em?
"You're super hot."
"It was like being smothered by a sack of potatoes that someone covered in body spray."
"I'm what they call a bear cub."
"Hey, Kurt, let's just do it."
"You take my breath away."
"I'm going to give you something that no one else is going to get."
"He didn't want me."
Speculate away! And get ready for a serious makeout session with your couch this Tuesday, 'cause Glee's "First Time" is the only place you should be. Just, you know, make sure your couch is emotionally prepared to take this step with you.