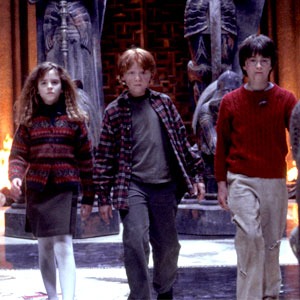 Warner Bros. Entertainment
As you have probably heard, the Harry Potter gang will unite one last time at the Wizarding World of Harry Potter in Orlando to celebrate the DVD release of Deathly Hallows: Part 2!
And don't forget, E! Online will livestream the star-packed red carpet this Saturday, at 5 p.m. PT/8 p.m. ET.
As a warm up for the magical event, we're counting down the top five best ever moments from the movies. And what better place to start than...the beginning?
Every relationship has a story behind it, but how many of us can say that fighting a giant troll was how an everlasting friendship got started?
It's quite obvious as to why we chose the troll battle from Harry Potter and the Sorcerer's Stone as one of the best moments from the series. This is the defining moment when Harry, Ron and Hermione officially become the trio.
Despite the fact that the boys had ganged up on poor Hermione, they acted as true friends to save her. She immediately returned the favor when she stood up for them by lying to Professor McGonagall about what had happened—a truly selfless act of friendship.
Whether or not you find yourself in a bathroom with a gigantic troll, it is good to remember the important lesson that you learned from these three about sticking up for your friends.
Be sure to check back tomorrow to find out what we chose as our next favorite moment! And let us know in the comments, what's yours?