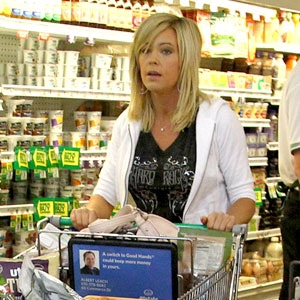 Splash News
Kate Gosselin has a new job.
Nope, she's not returning to television, but...
The Kate Plus 8 star is now blogging about—get ready for it!—coupons!
We kid you not.
Gosselin has scored a gig at CouponCabin.com.
"No matter how much money you have, it's just smart to use coupons," she tells me. "It's like free money in your pocket."
Her first blog post debuts on Nov. 22 about shopping for the holidays.
The onetime Dancing With the Stars contestant said she started clipping coupons before she had any of her kids, but the habit definitely took off when she became a mom. "One week, I remember saving more than half my grocery bill that week with coupons," she said. "I was beyond thrilled."
Extreme Couponing Plus 8, anyone?