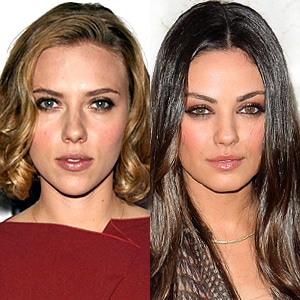 John Shearer/Getty Images; Toff Oren/FilmMagic
The man accused of playing peekaboo with the private email accounts of Scarlett Johansson, Mila Kunis, Christina Aguilera and dozens of others is not owning up to any alleged cybercrimes just yet.
After apologizing to victims and telling the press two weeks ago that he planned to cop to the charges against him, accused hacker Christopher Chaney pleaded not guilty today at his arraignment in Los Angeles.
Not that this means he won't ever plead guilty.
The Florida native—who was arrested on Oct. 12 and released from a Jacksonville jail on a $10,000 bond—did indeed plead not guilty to 26 counts of identity theft, unauthorized access to a protected computer and wiretapping, E! News confirms.
But in federal court, this sort of initial plea tends to be a type of formality until a deal can be hammered out between prosecutors and the defense.
Chaney faces up to 121 years in prison, though it's likely that an admission of wrongdoing will net him a much lesser sentence—unless the judge and prosecutors decide to make an example out of him as a warning to would-be cybercriminals.
Trial has been set for Dec. 27. In the meantime, Chaney can't go far.
U.S. District Court Judge Patrick Walsh tacked another $100,000 onto his bail—a bond he ordered signed by Chaney's mother, in addition to the original $10,000—and ordered Chaney to wear an electronic location-monitoring bracelet, refrain from using computers and not smoke marijuana.
"I want you to know your mother is on the hook," Walsh told the defendant.
Per the indictment handed down last month, the 35-year-old Chaney is accused of gaining illicit access to the email accounts of more than 50 individuals, including the likes of Johansson, Kunis, Jessica Alba, Vanessa Hudgens, Aguilera, Demi Lovato and Ali Larter.
Authorities say the hacker used several aliases to mine personal information from the stars, including intimate photos which he then allegedly offered to various celebrity blogs and which—like Johansson's highly publicized nude pics—were ultimately posted online.
Shortly after he was taken into custody, Chaney offered a mea culpa, denied that he was out to blackmail anyone, and blamed the hacking on an obsession that he didn't know how to control.
In an effort to have him remanded without bail, prosecutor Lisa Feldman offered evidence that she claimed uncovered two more victims.
"We have a great concern that he can't stop himself," Feldman said in court.
Defense attorney Jamon Hicks argued that his client didn't have a passport and had never even been on an airplane before his trip from Florida to California to face the court.
"As with all criminal defendants, Mr. Chaney is entitled to a defense," Hicks told E! News. "This means he is entitled to review all of the evidence against him and to challenge allegations which are false. During today's bail hearing, the government alleged that Mr. Chaney had been involved in inappropriate conduct with minors. While Mr. Chaney is willing to accept responsibility for the things he has done, he is not pleading guilty to the things he has not done."
UPDATE Nov. 21, 2011: Chaney has been indicted on two additional felony counts, unauthorized access to a computer and aggravated identity theft, for hacking into the account of another unnamed female celebrity's email. The woman complained that she believed her account had been compromised last month, and agents believe Chaney is the culprit.