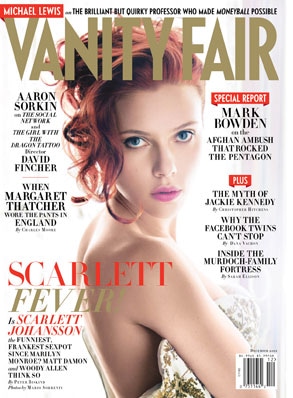 Vanity Fair
Scarlett Johansson is comfy in her own skin—even, apparently, when more skin than she ever intended to show ends up all over the Internet thanks to a hacker who could wind up in prison for 100 years.
"I know my best angles," she quipped in an interview to go with the December cover of Vanity Fair, responding to the inevitable questions about last month's nude photo scandal.
And while it was obvious Johansson preferred talking about her craft (winning her first Tony, making her first blockbuster hit, etc.), rather than her, er...Anyway, she actually filled in quite a few blanks on the subject, including why she took X-rated pictures of herself in the first place.
"Those are old, from three years ago," the We Bought a Zoo star told VF. "They were sent to my husband."
Her husband at the time, of course, being Ryan Reynolds. They filed for divorce last December after two years of marriage.
"There's nothing wrong with that," Johansson continued (refering to the pics, not the divorce). "It's not like I was shooting a porno—although there's nothing wrong with that either."
Nor was there anything wrong with her dating Sean Penn for five months, with the actress informing her interviewer that the two-time Oscar winner never tied her to a chair, as he is rumored to have done with ex-wife Madonna.
She admits that she "didn't know what to do" with herself when her Tony-winning run on Broadway in A View From the Bridge ended last year, as she had had a "very public separation."
"It was difficult. I was very uncomfortable," Johansson said.
One guy Johansson still sounds happy to stand beside these days is Barack Obama, whom she campaigned for back in 2008.
"When we were stumping for him, part of his platform was his wish to bring both parties together," she responded to a question about the president's administration being a disappointment so far. "People wanted to end this partisanship and thought we'd all hold hands and dance around the Maypole. But it doesn't work like that...We're all guilty of being idealists, I and everyone who voted for him."
Johansson (who in the meantime will be campaigning for NYC mayoral candidate Scott Springer) said she'd work for Obama again, calling it "irresponsible not to," and maybe-joked that she'd move to New Zealand if either Rick Perry or Michele Bachmann wins the 2012 election.
While on the subject of thinking ahead, Johansson also mentioned having kids in the world we currently inhabit ("I wonder if there's even going to be space for my kids," she said) and suggested that maybe it's time already to write her obituary.
"Somebody, I just read the other day, wrote their own obituary," she remarked. "I think that's a great idea...Why not get a head start?"
Yeah, we're going to pass on that, if she doesn't mind.