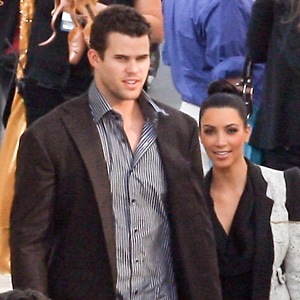 INFphoto.com
After just over two months of marriage, Kim Kardashian has filed for divorce from her basketballer hubby Kris Humphries, E! News has confirmed.
Kim did not give a formal reason for the split aside from the ever-popular and all-encompassing irreconcilable differences. But she did take time out to break her silence on the split and release a statement to E! News, explaining her decision to file for the quickie divorce.
"After careful consideration, I have decided to end my marriage," she said. "I hope everyone understands this was not an easy decision. I had hoped this marriage was forever, but sometimes things don't work out as planned. We remain friends and wish each other the best."
There's still been no official word from Humphries over his take on the split.
So just how fresh is this separation?
Very.
According to the documents, filed in Los Angeles Superior Court this morning, Kim listed their date of separation as just today—Oct. 31, 2011—with their date of marriage, of course, as Aug. 20, 2011.
As for the division of their assets, the couple did indeed have a prenuptial agreement, and the 31-year-old reality star requested that the terms of that agreement be upheld. Additionally, she listed "miscellaneous jewelry and other personal effects" as well as "earrings and accumulations" amassed by Kim before, during and after her marriage be confirmed as separate property. No word on whether that includes her $2 million, 20.5-carat diamond ring.
As for attorney and legal fees, Kim made clear that she would prefer his 'n hers payments, requesting that each party pay their own court fees.
As for Kim's E! family, the network has already extended its support to the reality star.
"All of us at E! are surprised and saddened by this news, and we send our support to Kim and Kris at this difficult time. The Kardashians have always been uniquely open with all aspects of their lives from joyous events to intimate moments to heartbreaking transitions. E! will continue to share the fascinating real lives and larger-than-life existence of this close-knit family."
This was the second marriage for Kim, who tied the knot with record producer Damon Thomas when she was 19. They went their separate ways in 2004.