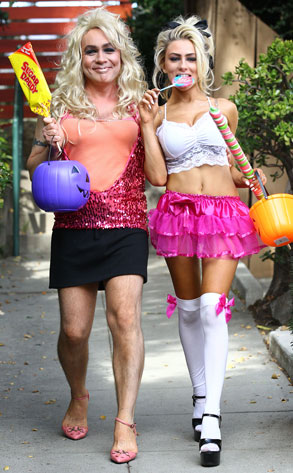 GSI Media
And here we thought Heidi Klum's Halloween costume was disturbing!
No, we're not referring to teen bride Courtney Stodden dressing up as, well, pretty much herself over the weekend. (Been there, done that, right?)
Rather, it was her 51-year-old hubby Doug Hutchison who caught our unfortunate eyes by stealing his 17-year-old wife's innocence thunder by stepping out in L.A. for the trick-or-treating holiday as none other than, yep, Courtney.
Then again, between the blond hair, the fake boobs and the skimpy skirt, we kinda have to admit the guy did manage to mimic his insignificant significant other pretty well.
So much so, in fact, that the Sugar Daddy accessory was probably not even necessary.