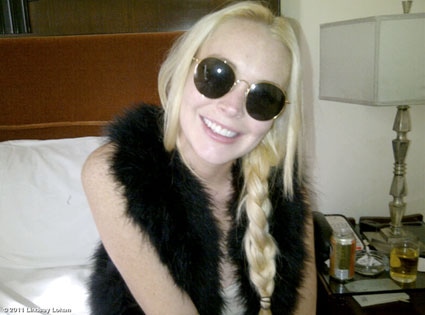 2011 Lindsay Lohan / WhoSay
Lindsay Lohan must have gotten tired of all the hubbub surrounding her less-than-pearly whites. (And let's not even get started on her dubious daddy.)
The Mean Girls starlet, who came under even more scrutiny when she flashed what looked like a rotten smile on a red carpet a couple of weeks ago, showed off a much more pleasant-looking set of teeth via her WhoSay page Saturday.  
Sitting in a room near a table topped with a cigarette-littered ashtray (and a couple of unidentifiable beverages), Lohan posed for the camera in a black fur vest, revealing a bright, white smile.
Needless to say, this is one heck of an improvement from her formerly shocking yellow, chipped teeth.
"Thanks Dr. Dorfman for the zoom," Lohan wrote underneath the photo. "My gums are so sore though!"
We're thinking the sore gums were worth it.