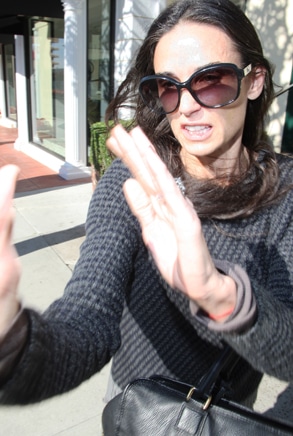 X17online.com
You don't mess with a woman who just had a manicure.
Fresh from having her digits done, Demi Moore was exiting Jessica Nail Clinic in West Hollywood's Sunset Plaza earlier today when she came face to face with some eager paparazzi.
And word is, she did not treat them like a few good men.
One of the shutterbugs told X17 Online that Moore lashed out and screamed obscenities at them as she pushed through the group on her way to her car, where a driver was waiting to whisk her away.
A shot of her with her hands up, karate-style, however, looks less like she was taking an aggressive stance, and more as if she was trying to shield herself from the cameras while trying to keep her wet nails safe.
Meanwhile, Gossip Cop quotes a source saying that Moore was set upon by an overly aggressive paparazzo who physically blocked her path, shoved his camera in her face and was verbally abusive toward her.
When reached for comment, Moore's rep directed E! News to the Gossip Cop story.
In either case, photographers intruding her on her De-mi time probably wasn't a welcome sight for the star, who hasn't exactly been seeking the spotlight lately, aside from last week's movie premiere.
And the same goes for her other half.
Husband Ashton Kutcher was in New York City solo this week to present an award on behalf of his charitable foundation at the GQ Gentlemen's Ball, and even the star of one of the most-watched shows on TV skirted the press on the red carpet.