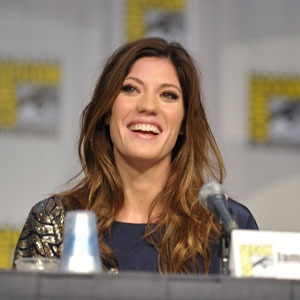 John Shearer/Getty Images
We love Jennifer Carpenter so much, it's a little tough to talk about Dexter's F-bomb queen without dropping one.
But when she opens up on everything from what it's like working with ex-husband Michael C. Hall, why Deb might learn Dexter's secret (and soon?!) and her own hilarious TV obsession? Well, Fuuuu...dgsicles! It's nearly impossible.
We caught up with J.Carp in New York and here's what we learned about her post-divorce time on set with her onscreen sibling and more...
According to Jennfier, it's going just fine, thank you very much. Despite filing for divorce late last year from Michael, Jennifer tells us the pair remain close. "Has it changed anything? Yes," she says of their time on set. "[But] he is and always will be one of my best friends in the world. And just because the marriage ended doesn't mean the love isn't still there. We take very good care of each other and our cast, we always have, and I'm just really lucky."
We met up with Jennifer as she shot a fashion feature for the website Stylecaster (and prepared for her guest role on The Good Wife), and she gave a pretty strong storyline hint that Deb might soon be hot on Dexter's trail.
"I think she has always been cheating on her men with her work," Jennifer says of Deb, "and now that she has been promoted to lieutenant the weight of the world is, well the weight of Miami is resting on her shoulders, she is going to focus on her work—which is dangerous for Dexter."
Especially because, according to Jennifer, Debra Morgan has always had her suspicions. "Just between us, I think that [Deb] has always suspected something dark, sort of like a dark undercurrent with him. There are just too many gaping holes with his schedule with how he connects and disconnects from her and other people. So I don't think that she would say, 'He must wrap people in plastic, and drive knives through their ribcage.' You know?...I don't think it's quite cut and dry like that for her, but there is always a suspicion, and I feel like...I've always been right there with you, the audience."
Jennifer also revealed her own personal deepest, darkest secret, and we'll let you be the judge on whether it's worse than Dex's.
"I watch [Jersey Shore] at the gym. I'm not going to lie. I'm a fan. It's entertaining to sort of turn your brain off. It's like probably getting into the car with a drunk driver or something. [Laughs.] But you're safe!"
—Reporting by James Chairman