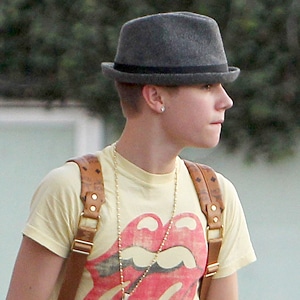 GSI Media
Attention everyone with Bieber Fever: You all should know that Justin Bieber's balls have dropped. Uh, what?
The Biebs' ever-present manager, Scooter Braun, reveals why the "Mistletoe" singer's voice is a little deeper and smoother on his new album, saying it's because his vocal cords have matured.
"Vocally, his balls have dropped," Braun told Billboard.
He also compared Bieber to the Beatles.
So what did he say?
Braun said that the love girls (and one Johnny Depp) have for the Biebs is reminiscent of Beatlemania and the carrying on, outrageous screaming and fainting that went on for the boys from Liverpool.
"All the hype and the kids running down the street screaming, you lose the chance to say that this started because of the music. This album lets the music speak for itself," he said. "I don't want to draw comparisons, but there was a band during the British Invasion that had girls screaming at them. I think you know who I'm talking about."
Now back to the ball-dropping.
Braun explained that the "Baby" singer will still be able to charm his fans with that voice of his, even if it changes as he matures. Braun said that the remix of "All I Want for Christmas Is You" with Mariah Carey on Bieber's new Christmas album was a bit difficult for him to sing, because Mariah wanted the song sung in her original key.
"That was the hardest song to do," Braun tells the magazine. "A year ago that would have been no problem."
Bieber agreed that it "was high," but that he was eventually able to hit the notes.
"Yes, that was high, but I grinded it out and we got it down," the singer said.
Island Def Jam Music Group President Steve Bartels says the Christmas album shows Bieber's "growth as a young man" and will pleasantly surprise his fans with his blossoming voice.
Bieber's album Under the Mistletoe is available Nov. 1. Bieber announced via YouTube that sales from the album, featuring Boys II Men, Chris Brown and Busta Rhymes, will go to charity.
Awww, that Biebs. His balls may have dropped, but his heart's also matured.