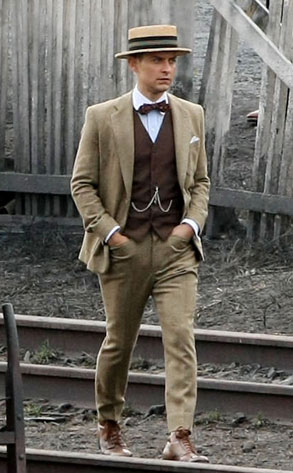 Carlos Costas, PacificCoastNews.com
Think Jay Gatsby is the only one with shirts to weep over?
Tobey Maguire sports a seriously stylish period outfit for his role in Baz Luhrmann's take on The Great Gatsby, the classic American novel by F. Scott Fitzgerald. Maguire plays Nick Carraway, who narrates the story about a wealthy mystery man who hosts lavish parties in hopes of winning back the love of his life.
With a straw boater and crisp bow tie, the actor looks ready for a party on the West Egg with costars Leonardo DiCaprio and Carey Mulligan despite the fact that distinctively American story is being filmed Down Under.
Whenever the inevitable discussion starts about how the movie stacks up to the original, we gotta say the costumes already look better than anything we ever imagined in our reading.