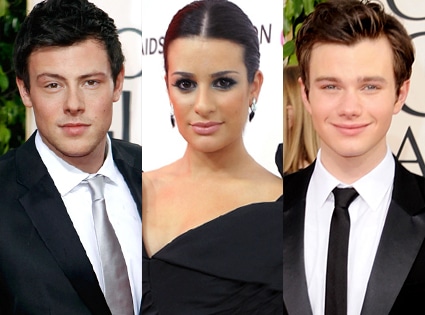 AP Photo/Matt Sayles; Stefanie Keenan/Getty Images for Chopard; Jason Merritt/Getty Images
Finchel FTW! (And Klaine, too.)
Looks like there's a good chance that (despite that spinoff controversy a few months back), Glee's graduating "seniors" Lea Michele, Cory Monteith, Naya Rivera, Chris Colfer, Dianna Agron, Mark Salling and Harry Shum Jr. could very well end up staying on the original series in some capacity.
We hit the set today to help celebrate the show's 300th musical number (you saw our Jonathan Groff and Adele explosion of awesome, right?), and Glee's co-creator and bossman Ryan Murphy had this to say about whether the actors who play McKinely High's seniors will be departing the series:
"We were talking about doing different things and then we decided to work on this season," Murphy told reporters on set. "I think that just because people graduate, which I thought was very important to the show, that doesn't mean they're not on Glee or not a part of the Glee world. We haven't figured out what that is yet. We're figuring that out. A lot of it will depend on the actors and what their dreams are and what they want to do and what they feel that have left in them. We're obviously a very close group of people. We talk about these things every day."
And just in case any seniors do end up leaving the series this May, Murphy is doing right by them in the meantime.  "Because so many kids are graduating this year, I wanted to go back to what the pilot was," Murphy said. "Creatively, it was a really great decision because it grounded these kids again."
By our last count, the graduating seniors include Rachel, Finn, Kurt, Karofsky, Mike and Santana. Who are you most hoping will stick around? In order to keep them all, can we just agree that we're OK with McKinley University?