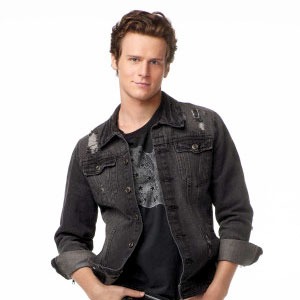 Patrick Ecclesine/FOX
Glee fans, are you sitting down? 'Cause we've got some Glee scoop that'll knock your Rachel Berry themed socks off.
Jonathan Groff, in all his Groff-iness, will be back on Glee. Take a moment to praise Ryan Murphy and Co., and then keep reading for exclusive details on The Groff's return, an amazing Adele mash-up (she approved it herself!) and more…
We were on set of Glee today for a big group musical number (No. 300!), and we chatted with Murphy and the cast about what's coming up for the so far stellar season three. And oh-so-casually we almost missed it, Ryan dropped that Jonathan Groff would be returning as the new coach of Vocal Adrenaline!
We did a little more snooping behind the scenes, and got this exclusive scoop: Groff will be doing four episodes, leading up to the big Nationals face off! Also, he'll have stories with Alex from The Glee Project.
We die.
Also on set today was new Glee castmember Damian McGinty, who was as adorable in person as he will surely be on the show.  "First I want to thank everybody because they've been incredible," Damian says before admitting he was "really scared" on his first day. "They've been so nice and so welcoming and I fit in really well."
While he wouldn't say much about his character Rory Flanagan, Damian reveals, "He's having a hard time fitting it and getting bullied a lot. He's very young and very happy." You could tell how much the cast loved Damian as they laughed and clapped after almost everything he said. Didn't we tell you? Adorable.
Ryan & Co. also loved Glee Project runner-up Lindsay so much that she's coming back for another guest spot on the show! "Lindsay's coming back in episode eight," Ryan says. "She's sort of the Rachel of her school and she's so amazing. She will be competing against our groups."
As for Damian's co-winner Samuel, Ryan says, "Sam is probably going to come in around episode ten or eleven, probably after the Christmas break." Yes, you will have to wait at least another two months to see those beautiful dreads again.
Finally, Alex, whom Ryan calls "amazing," is "going to be the love child of Kurt and Mercedes and will turn to them for much advice." He will also share "many scenes" with Groff. A member of VA perhaps?
Other bits of scoop you might find interesting:
Someone we found very surprising was singing with the rival glee club started by Shelby Corcoran (Idina Menzel). Seriously, of all the people from New Directions we thought might switch over, this person was nowhere near our top guesses.
The rival group was in the choir room performing an Adele mashup of "Rumor Has It" and "Someone Like You", and it was so awesome it'll melt your ears off when you hear it. We'd go as far to say it was one of the best mashups ever. Adele herself recently listened to it and "loved it" and "approved it personally," according to Ryan.
A particular Adele song seemed to be dedicated from one person to another during a solo. Can't say much more about that. Except that a certain fanbase will freak.
Stand by. We have more scoop coming but couldn't help shout this Groff news from the rooftops, STAT. Check back in a bit for more scoop from the Glee set!
Are you as happy to hear Groff is returning to Glee as we are? Any guesses on which New Direction member is jumping ship?