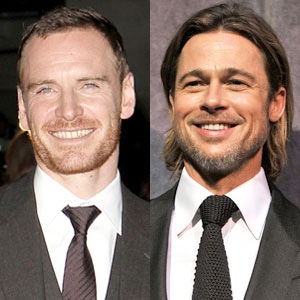 Fred Duval/FilmMagic; George Pimentel/WireImage
A couple of Basterds are getting back together.
Brad Pitt and Michael Fassbender, who costarred together in Quentin Tarantino's Inglourious Basterds, are set to reteam for the drama Twelve Years A Slave.
Pitt will produce and have a significant role in the film, which follows a free black northerner in the 1850s who's abducted and sold into slavery in the deep south.
Per Indiewire.com, Twelve Years also marks another notable reunion as it will be helmed by Steve McQueen, who directed Fassbender in the art house hit Hunger as well as the upcoming sex addiction tale Shame, which just got slapped with an NC-17 rating and will be released in December.
The underrated Chiwetel Ejiofor (Children of Men) will essay the role of Solomon Northrup, Twelve Years' central character who, after being lured to Washington, D.C. by a fake job offer, is forced to work as a slave on various plantations. Hope arrives when a white Canadian carpenter-turned-abolitionist gets word on Northrup's behalf to his wife and she miraculously convinces a court to free him.
Pitt's Plan B shingle will oversee the project, which has been in development for years but didn't really gather momentum until catching the eye of Fassbender and McQueen.
Twelve Years, which starts shooting early next year, is the latest flick aiming to tackle America's Original Sin following Tarantino's May announcement that his next directorial effort will be Django Unchained.
The latter is a Spaghetti-style western about a former slave (Jamie Foxx) who teams up with a bounty hunter (Christoph Waltz) to save his wife from an evil plantation owner. Kerry Washington is in talks to play the wife.