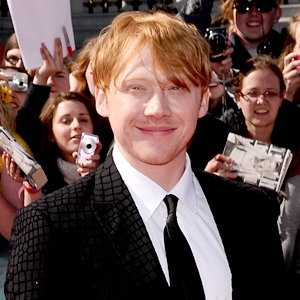 Ian Gavan/Getty Images
It's been quite an emotional year for Harry Potter fans. The final film left most, if not all of us in tears, as one of the most influential franchises came to an end. But if you were left wanting more or feeling like you still need some magic in your life (and let's face it, we all do), we've got some great news for you! 
The cast and filmmakers of the Harry Potter series will unite one final time at the Wizarding World of Harry Potter in Orlando to celebrate the DVD release of Harry Potter and the Deathly Hallows: Part 2!
And we'll be livestreaming the red carpet right here on E! Online, with hosts Ben Lyons and Kevin Pereira.
Tune in on Saturday, Nov.12 at 8:30 p.m. ET / 5:30 p.m. PT for Live From the Red Carpet: Harry Potter Home Entertainment Celebration.
Fan favorites such as Rupert Grint, Jason Isaacs, James and Oliver Phelps and director David Yates plan to join fans around the world to celebrate the legacy of Harry Potter.
Make sure to be here right away so you won't miss a thing. Who knows what other Harry Potter superstars will show up at this magical event!