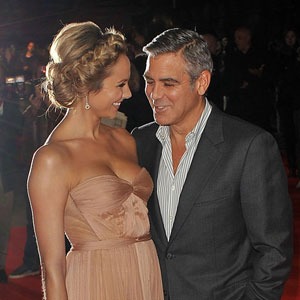 Ferdaus Shamim/WireImage
First of all, what's going on with Stacy Keibler, a one-time pro wrestler who appeared on Dancing With the Stars ages ago, and permanent bachelor George Clooney?
Don't look to George for answers, as he just did the Hollywood Film Awards with Stacy tight by his side but still offered no explanation for her presence.
Well, we have word on George's love life from deep inside his notoriously secretive enclave; plus, a look at the pros and cons of playing with Mr. Clooney's golden nuggets:
"Stacy is not Elisabetta," that I can tell you, says a tight friend to the 50-year-old movie hunk. "And that has a lot to do with why she's around and Elisabetta isn't. [Elisabetta] was very ambitious."
Funny, because it sure looks like Stacy's the ambitious one—as her appearance fee just got upped by about 150 friggin' percent since hooking up with George.
Elisabetta, who George's friends claim "decided to be famous in Hollywood, no matter what," must be feeling like she just got ditched from Dancing all over again (Canalis was voted off second, while Keibler made it second to the last.)
But look, we all know how the Clooney love story usually ends. Faster than you can say ka-ching, he is off to the next babe, leaving his former leading ladies in his dating dust.
Remember Sarah Larson?
This Las Vegas cocktail waitress had a year-long relaysh with George and she is nowhere to be found these days. For all we know, she's back at the Whiskey Bar, serving drinks to creepy Vegas patrons.
Still, after our Clooney source told us how "easy" George currently feels with Stacy, he again reminded us that Elisabetta "is the most determined of all the women George has ever dated," so don't count the gorgeous Italian model out just yet.
We had to ask: Which gal will it be after the inevitable next Clooney split?
"I've always thought Renée [Zellweger] would come back around," surmised the close Clooney pal.
Hmm. Perhaps Renée, who's a total sweetheart, could use the red-carpet oomph?