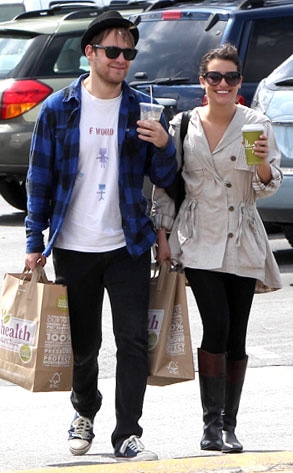 INFphoto.com
Glee gal Lea Michele recently split with her longtime beau Theo Stockman, but just like her chipper character Rachel Berry, she's looking on the bright side of the breakup.
"I'm having a great time!" the single starlet told me last night at Mohegan Sun's 15-year anniversary soiree. "I feel like they say 'You lose a boyfriend and you gain a best friend' and that's really my situation exactly."
Lea was on hand with her girlfriends to see Jennifer Lopez perform at the Connecticut casino to fete their big anniversary.
She also opened up about getting to kiss another guy recently...Ashton Kutcher!
Lea locked lips with him while filming New Year's Eve and told us that she got to see more than she expected of Ashton.
"He really takes everything so seriously, but then he would also make me laugh so hard and play pranks on me," she explained. "One day, I opened up a door and he was supposed to be there fully clothed and he wasn't. That was awesome."
With Lea's crazy busy schedule, we bet she doesn't even have time to date! It was one quick trip back East for her, as she already hopped a flight this morning and is back in L.A. working.
"Gotta hit the ground running now and head to work.. Who works on Sunday?!?! Me!! :)," she tweeted.