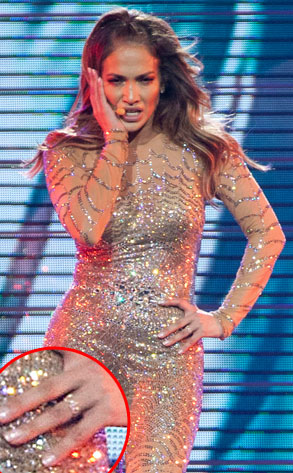 Janet Mayer / Splash News
Jennifer Lopez had trouble keeping it together while singing about lost love Saturday night.
The I'm Into You singer, who split from hubby Marc Anthony in July, got so emotional while performing at the Mohegan Sun Casino's 15th anniversary celebration in Connecticut that she walked offstage in the middle of it.
During her portion of the show, which kicked off with an acoustic performance of If You Had My Love, there were words on a screen in the background that said, "I want the fairy tale. I still believe in love."
Lopez told the audience it was "the first song [she] wrote about love."
"What is love?," Lopez went on. "As the last song I wrote about love…a lot has changed since then."
As she went on to perform One Love, the American Idol judge became noticeably emotional. 
Pairs of dancers appeared on stage as she sang, dressed like Lopez with look-alikes of her past loves, including Diddy, Ben Affleck, Cris Judd and Marc Anthony.
"A little trip down memory lane, huh?," J.Lo said to the crowd. 
It appeared to be a trip she wasn't exactly ready to take, however, because it was at this point that she wiped her eyes repeatedly and then walked offstage after finishing the song.
Lopez, who also told the crowd, "Love is a journey" during the show, returned to the stage and finished the performance strong, singing "Let's Get Loud" and "On the Floor."
The Back-Up Plan star was wearing a ring on her ring finger while she performed, but it was unclear whether it was her wedding ring.