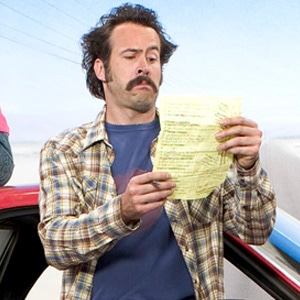 Mitchell Haaseth/NBC
Jason Lee isn't just romancing Maya Rudolph on NBC's Up All Night these days. He's ready to get down to business and finish that dang list Earl Hickey started so many years ago!
We hit the set of Up All Night to get scoop on what's ahead from Will Arnett, Christina Applegate and Jason (more on that later), and Jason revealed that he's been talking with My Name Is Earl boss Greg Garcia about a movie (big or teeny-tiny screen) wrapping up the story...
"I definitely see it happening," Jason told us of an Earl finale feature. "It's time! We have to finish the list which we never got to do, so it's sort of just floating out there in limbo somewhere incomplete."
My Name Is Earl (also starring Jaime Pressly) was canceled after four seasons on NBC, and the final episode last May ended with "To Be Continued..."
Jason says Earl's boss Greg Garcia (who now runs Fox's Raising Hope) is on board with making a wrap-up feature happen. "I've talked to Greg and even if we have to get a small guerrilla crew together and kind of make our own thing and put it on the internet, we definitely want a closing. Whatever we can do to sort of finish the list, I feel it in the air, it's time. A movie? Fantastic."
On Up All Night, Jason cozies up to Maya's character Ava, and Christina tells us Jason is "incomparable" and the perfect man for Ava: "He is rugged and grounded and kind and I think he is going to be able to spar with her really well."
Up All Night airs Wednesdays on NBC.