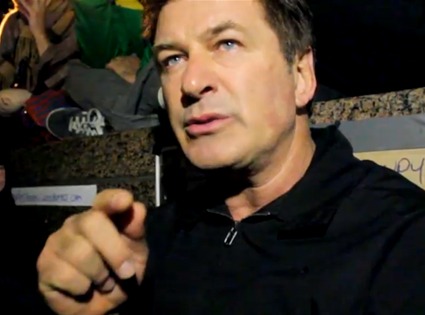 YouTube.com/WeareChange
If Alec Baldwin wants to run for New York City mayor someday, he's getting in some good training as a man of the people—and a defender of capitalism.
The Hollywood star dropped by Occupy Wall Street Tuesday night in Manhattan's Zuccotti Park to lend his vocal support to the resistance movement protesting corporate greed. 
Here's what he had to say to the "99 Percent."
Baldwin tweeted his desire to head down there on Tuesday and an hour later made good on it when he attended a tutorial led by activists as part of a two-hour tour. After thanking them, he took to Twitter to offer his thoughts on the direction of the ever-growing movement.
"OWS needs to coalesce around some legislative policy. The 'occupy' strategy may be an effective one. But what can each entity agree on?" the 53-year-old actor tweeted.
Baldwin's suggestion for Occupy's goals?
"Campaign finance reform remains the linchpin of our democracy's many problems," he wrote in another message, noting that "that would be 1 measure of success."
He also added: "We need a healthy banking system in this country. We need strong capital markets. What is missing are regulations with teeth."
The thesp's presence down at the nerve center of the progressives' answer to the Tea Party didn't go unnoticed by right-wing critics, who blasted Baldwin as a hypocrite since he also serves as a spokesman for Capital One Bank and is part of the 1 Percent since he's presumably made millions in his film career.
Alec wasn't having any of it, however.
"Some website wrote that I'm worth $65 mill, so have no cred at OWS. Man.....news to me. Didn't know I had $65 mill," he opined, later tweeting, "Does it matter WHAT a person is worth if they want the same change as the MAJORITY?!?! go on w/ur support of OWS!"
In response to one follower's question, he also clarified his business relationship with Capital One.
"I donated all of my fee from Capital One 2 arts charities. They have been gr8 partners in my support of the arts," he fired back on Twitter.
And never one to back down from a heated debate, Baldwin also addressed several Ron Paul fans who ambushed him at Zuccotti asking his position, among other things, on whether he agrees with the congressman's call to abolish the Federal Reserve.
"Capitalism is worthwhile," said Baldwin in an exchange that's since been posted to YouTube. "I don't want the capital markets to be dismantled. I think capitalism is worthwhile, and capitalism demands the flow of money."
The Emmy-winning 30 Rock star subsequently defended the Fed, refused their call to endorse Paul and suggested that "most people don't want the country to go down the tubes" and one way Americans can do that is by overhauling the Securities and Exchange Commission to make sure they're not in bed with the very bankers they're charged with regulating.
Baldwin joins a list of celebs who have made the pilgrimage to Occupy Wall Street including Michael Moore, Kanye West, Susan Sarandon and Russell Simmons, the last of whom ended up getting heckled by protesters when he visited (starting about 2 minutes in).