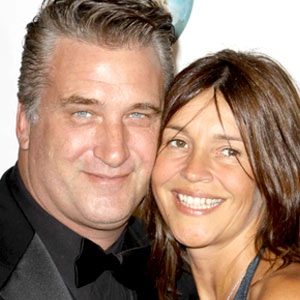 Kevan Brooks/AdMedia/Sipa Press
It turns out Daniel Baldwin has not been living the picture of domestic bliss recently.
A few months after Baldwin withdrew his divorce petition (not to mention a request for a restraining order and allegations his wife tried to cut his throat), the split is back on in a big way.
But this time it's Joanne Baldwin who's filing for divorce, and, let's just say, her estranged hubby is finding her demands rather "unreasonable."
"Joanne's demands in the divorce papers are unreasonable and ultimately the burden of proof is on her and she doesn't have a leg to stand on," a source close to Daniel tells E! News regarding Joanne's laundry list of requests.
Aside from $4,000 a month in child support, half of Daniel's earnings and the $1 million life-insurance policy she wants him to take out to benefit their children, she wants sole custody of their two young daughters, according to the new petition filed in Oregon and first reported by TMZ.
It's that last one that really seems to be grinding Daniel's gears.
"There is a very slim chance that Joanne would ever be awarded sole custody of their children due to the fact that she has two prior DUIs and has continually violated her probation," the source says. "Daniel has been clean and sober for more than four years and his biggest priority is his children's well being."
Joanne was jailed for a week and her probation for a previous DUI bust was extended by two years this past summer after she admitted to drinking while on probation.
The insider also tells E! that reports of Daniel and Joanne's prior reconciliation were all false and that they haven't lived under the same roof for months. He dropped divorce proceedings in August, about a month after filing the paperwork.
"Daniel just wants the best thing for his children," the source added. "He wants Joanne to be happy and get help. All he wants is for her to get the help she needs."