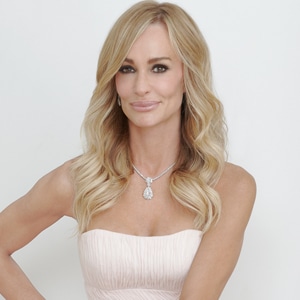 Richard McLaren/Bravo
Has it come to this?
We've witnessed Taylor Armstrong open up about her troubled marriage, and her own issues, throughout this season. And after the tragic suicide of her estranged husband, we can guess that the media scene is too much for the Real Housewives of Beverly Hills star. But apparently, that's not the problem here.
National Enquirer is reporting the reality-TV lady was "kicked off" the show for next season because her costars "complained to producers that she was constantly trying to steal the show."
The story claims that her fellow Housewives felt she "alienated the other Housewives with her nonstop ploys for pity and attention before the tragedy."
Wait, that's not all!
The other ladies also allegedly felt that "The Real Housewives of Beverly Hills was turning into the Taylor Armstrong therapy show. Whenever the wives are together, Taylor would somehow manage to start crying and complaining about her life."
Kinda harsh, right?!
Totally, but it's not true. A source confirms to E! News that the Bravo star has not been "kicked off" of the show.
So we can be sure to expect plenty of "pity" and "therapy" next season.