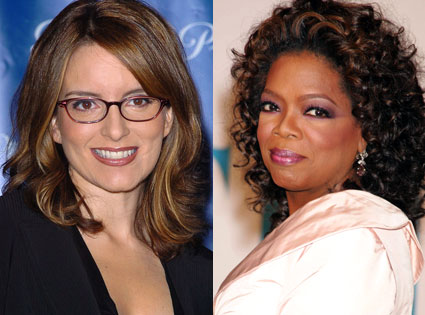 Lisa O'Connor/Zuma Press, Nancy Kaszerman/Zuma Press
Dreams really do come true!
Sources confirm exclusively that Oprah Winfrey—the queen of, oh, let's face it, everything—is currently in final talks to guest star on NBC's 30 Rock this fall, and has already been written into the script for the second episode!
So what are the details? Well...
I'm told Oprah is slated to appear in 30 Rock's episode 302, which is tentatively set to air Nov. 6. According to reliable insiders, the initial plan (subject to change) is that she will be playing herself, with all of her scenes opposite Tina Fey's fabulous Liz Lemon, and that her story would also play into a feud between Tracy Jordan (Tracy Morgan) and Jenna Maroney (Jane Krakowski) that will continue through several episodes.
As regular readers of Watch With Kristin no doubt know, Tina has long expressed a wish to get Oprah on the show, and last year, while doing publicity for her movie Baby Mama on Oprah's show, she put those positive thoughts out into the universe and, lo and behold, it worked!
Jeffrey Mayer/Wireimage.com
In other notable 30 Rock casting news, Will Arnett will reprise his Emmy-nominated role as the duplicitous, divalicious Devin Banks for the Oct. 30 season premiere, called "Do-Over." And the third episode stars a little-known but talented comedic actress named Jennifer Aniston.
The 23rd season of the syndicated The Oprah Winfrey Show premieres Mon., Sept. 8.
Is 30 Rock the smartest comedy on TV, in part because they cast such fabulous actors? Post your verdict in the comments, along with your Oprah-meet-Tina celebrations.