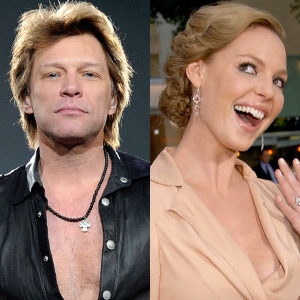 Ethan Miller/Getty Images; Gregg DeGuire/WireImage.com
Katherine Heigl may be married to singer Josh Kelley, but he's not the man she was talking about kissing the other night when I caught up with her at Elle's Women in Hollywood gala.
The former Grey's Anatomy starlet was gushing over locking lips with another musician!
Heigl plays Jon Bon Jovi's love interest in New Year's Eve, Garry Marshall's followup to Valentine's Day.
"I play a young woman who's a caterer and she's catering the New Year's Eve party and event," she explained. "Jon plays my big, famous musician ex-fiance who comes back into town to sort of win me back."
And then Heigl beamed, "Yes, I made out with him!"
How was it?
"It's always so nerve-wracking," she said. "There's all the giggles and there's all the Altoid popping."
And Bon Jovi couldn't have been more of a gentleman. "He's just a gem," Heigl said. "One of the nicest guys ever."
In other New Year's Eve news, Michelle Pfeiffer and Zac Efron may or may not get it on. "We have a very unusual relationship," Pfeiffer told me. "We're sort of an odd couple.
"He only really hangs out with me in the beginning, because I bribe him with super-fabulous party tickets for New Year's Eve, but then I think he grows a little fond of me," she said.
We can see why. At 53, Pfeiffer seriously remains one of the hottest women in Hollywood.